You are here:
The History of the Toolbox
Early in mankind, people would find objects that they could use to do other things. For example, one might find a rock with a nice flat spot on it to use as a hammer. As these early tools were being found and made, people needed some place to store them. People utilized cloth bags, stone, or clay jars to hold their tools. Once wood became more available, people started making wooden toolboxes.
Overtime as building designs change, tools and toolboxes must evolve. People who worked in construction, repair, and general labors. Oftentimes need to carry their tools to the work site with them. Portable toolboxes were typically made from wood, steel, and plastic. Steel toolboxes are known to be stronger, withstand abuse, and support the weight of many tools. Steel toolboxes tend to rust. Plastic toolboxes are known to be lightweight. Plastic toolboxes loaded with tools can oftentimes be just as heavy as an empty steel toolbox.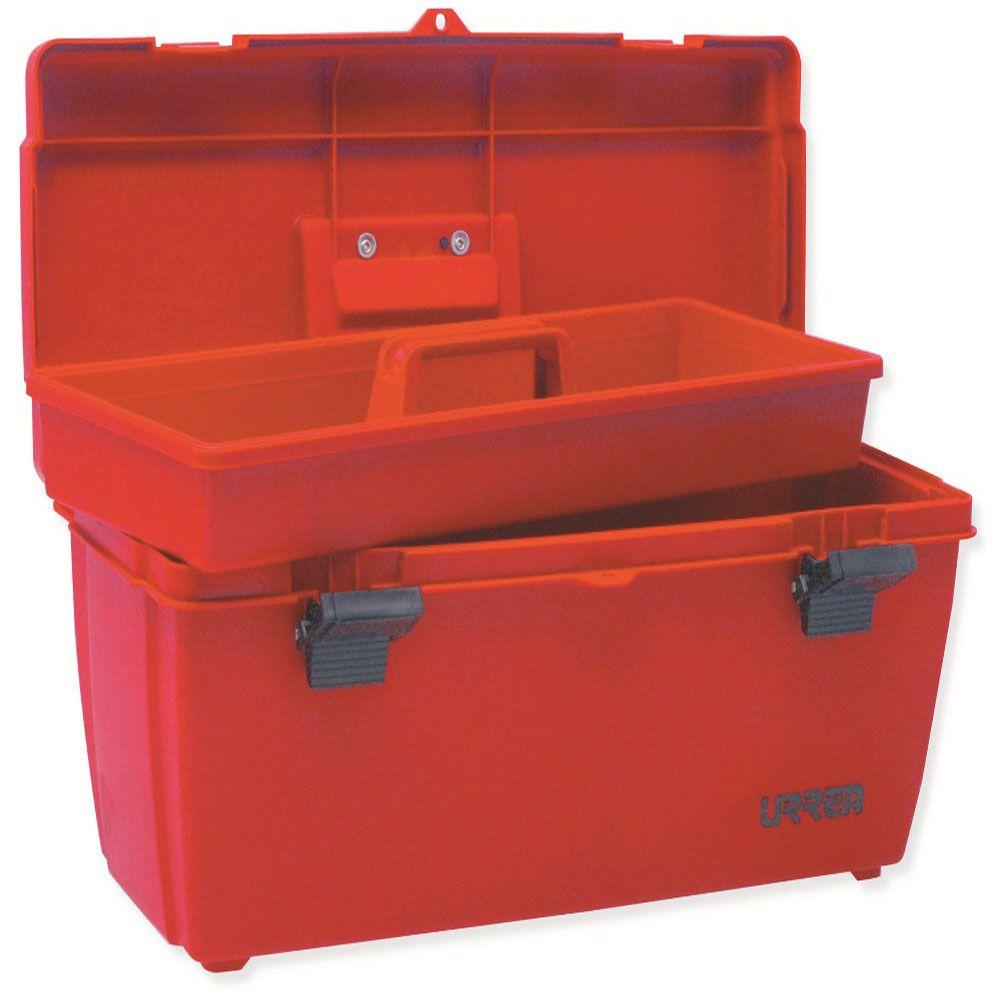 Truck toolboxes have become a norm among construction, repair, and general labor's vehicles. The design and materials used for these toolboxes must be durable in all kinds of weather conditions and be able to secure the contents from theft or sudden impact. Truck toolboxes come in many different shapes, sizes and styles. For example, there are crossover boxes, chest style boxes, side rail boxes, tailgate/truck boxes, and underbody boxes.
The most common style of toolbox for a truck is the crossover box. This box is designed to sit behind the cab on the rails of the truck bed. This type of box can be built with a full lid or gull wing lid (double lid). This type of toolbox is more difficult to use because you must get in the bed of the truck to utilize it.
Chest style boxes offer people the option of having a toolbox in the back of their truck and not have it rest on the bedrail. These types of boxes offer maximum storage capabilities. Once again, this toolbox can be more difficult to use because you must get into the bed of the truck to utilize it.
There are two different types of side rail boxes. These boxes are defined by how the box rests on the bed rail. Losider toolboxes run the length of the side rail with the storage area being below the bed rail. This type of box helps compliment the crossover box. The down side to this box is that the storage area is narrow and shallow.
The topsider side rail boxes are one of the most sought-after toolboxes in today's market. These boxes offer the largest amount of storage area at just the right height. There are a couple different styles of these topsider boxes. The Contractor- Full Door Topsider series is available in multiple lengths including a top and bottom compartment for two tiers of storage. The Contractor- With Drawers Topsiders series is also available in multiple lengths. This box has stepped it up a notch by adding drawers to the lower level of storage area. These drawers can withstand 100 lbs. of weight in each and come with organizer dividers. The Contractor series lead into making the High Capacity Stake Bed Contractor box. This particular box is designed for a flatbed application. Another style of topsiders is an empty box with a flip-up door using gas shocks. This allows for taller tools to be secured inside a toolbox.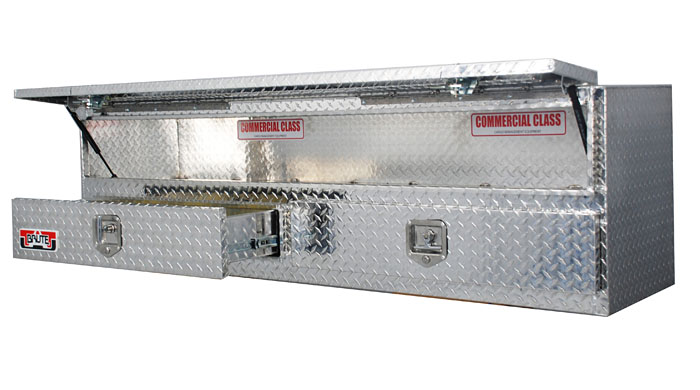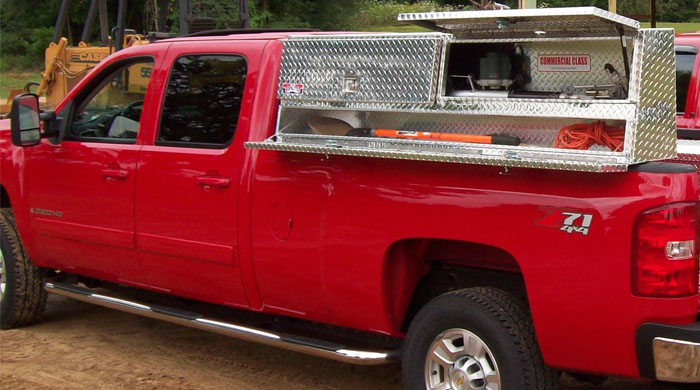 There are a few different designs of toolboxes that offer easy access from the rear of the truck box. One type of box is the gooseneck tailgate box. This box has been specifically designed with a "V" shaped design to allow the trailer-tongue to slide through to the fifth wheel hitch, still allowing you access to both doors and the drawer that are built into the box for storage capabilities. Another box that is accessed from the rear of the vehicle is a Brute BedSafe. This box is designed as an all-aluminum heavy-duty roller drawer box. The drawer has a 350 lb. capacity with a top/side load capacity of 500 lbs. This box still allows you to have access to the bed of the truck.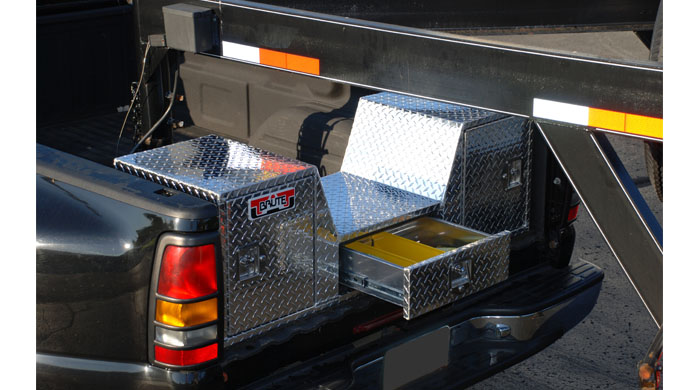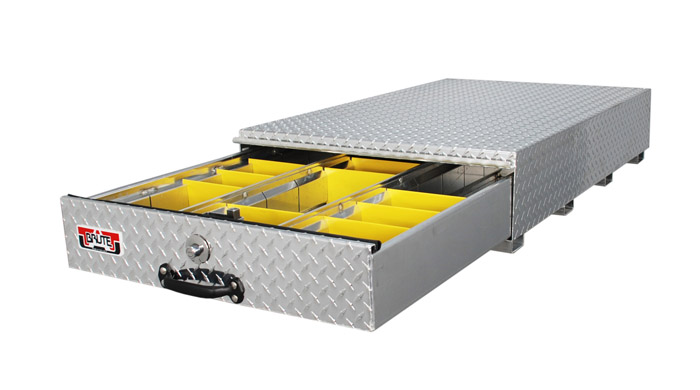 Another popular type of toolbox is the underbody. There are several different designs for this type of box. This box is typically mounted under the body of the truck. These are most typically found on flatbed trucks. This box comes in multiple sizes allowing for the consumer to choose which size will fit their need. In 2005, Brute invented an underbody tool box with a top drawer. The idea stemmed from the notion that there was wasted space in the top of the box. This helps expand the usable capacity of this type of box.
Tool boxes have had to change and evolve as consumer's vehicles have changed and been redesigned. There is a wide variety of tool boxes that are available for purchase. To choose the best tool box for the application, you would want to start by deciding what you plan to store inside the boxes. The size of the tools or containers play a big role into what is best for the consumer. After deciding what will be stored in the tool boxes, it's time to start looking and considering which type of box will benefit the application the best.